Yes I know, yet another Ultraman article…..sorry, I don't wanna be a freak, but I can't help myself. We at a JWS love Ultraman, some of our staff like the stories, others, like me, love the fashion and its total atmosphere..one member even has a full human sized Ultraman suit at home, and a 1.8 meter life like doll at home….so now you know who's the only single member in our group too.
Thank god we are not alone in our obsession with this giant, yet delicate super hero, we bought and shipped quite a lot of products from the "A MAN OF ULTRA" shop worldwide.
Premium Bandai will release this month this amazing Bluetooth SSSP clip-on mic and receiver, where SSSP stands for Science Special Search-Party which are the brave folks who search and find bad-ass monsters and aliens.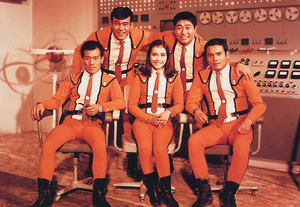 More than just a replica fashion statement though, this product actually improves over the original. The original communicator pin was merely a radio transmitter, where the new one works as a wireless mic, call notifier, speaker or headphone transmitter with its earphone jack and it's a fashion statement!
Check the video and you see what I mean.
An incoming call is answered by pulling out the antenna and the ringing sound is the  tone of the original communicator, how much more authentic can it get? A little less authentic but very much welcomed are the volume buttons and buttons to change music tracks.
This limited product is priced at 21,600 yen with delivery in February, pricey? Yes a bit but everything worth buying ain't cheap, the rest is just "gamman" (Japanese for patience, in this context it means buying something cheaper while you long for the original item)shipping will not be expensive due to its light weight.
Serge Roso
Japanwebshopping.comJapanwebshopping.com
If you have any questions related or non-related to this product please don't hesitate to send us the following form.